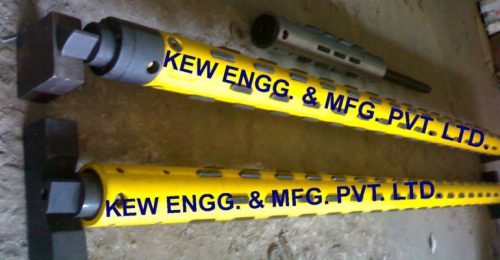 Specialised manufacturer, exporter and supplier of Air Shaft from India. Differential Shaft is a sophisticated winding shaft for slitter rewinder machine, used as duplex shaft winder (centre winding type).
It is capable of compensating speed variation due to gauge variation with multi cores.
Minimum 20 mm core width is possible.
Reel holding is possible at any position across the width.
No-time lost in re-positioning cores since no distance pieces are required.
Shaft can run at very high speed.
Air Shaft
This shaft consists of slotted shaft, rubber bladders, hard and ground steel cage with ball type gripper.
Sizes
 Suitable for core ID. 3″ and 6″
 Length as per requirement.
Capabilities
 Load up to 2 tons
 Suitable for Core l. D. dia 3″, 4″, 6″, 8″ (metric size and special sizes also produced)
 Length as required
 Speed up to 1000 Mtrs/min
 Suitable for core materials: Paper, Steel, Thermoplastics
 Minimum core width 20 mm
General Materials of Construction
 Pipe – Steel
 End Generals – Steel – simple or hardened
 Cam – Brass
 Lugs – Hardened Steel / Rubber