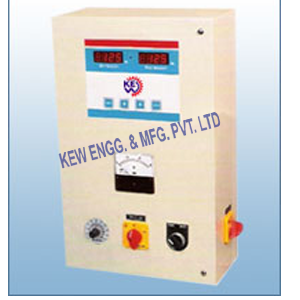 KEW is the most leading manufacturer for Tension Control System. The offered range of products is widely used to experience and understand the web psychology and behaviour. Our products are manufactured and designed using high quality material and cutting-edge technology for the better development of our products.
Tension Control System
TENSION CONTROL SYSTEM:
In modern production plants, processes are to large extending automated with manual interventions being reduced as far as possible
Hence automatic web tension controlling is essential if expectations in this respected are to be satisfied
KEW series controls Unwind, Rewind and intermediate web tension automatically.
Just set the desire tension and the controller maintain it by automatically compensating for various roll diameters, speed, web material etc.
actual tension and set tension is displayed on digital meter. Standard features include auto / manual, tension on/off, manual setting pot, soft start and mains on/off.
Available with enclosure .Outputs available to control motor drives, powder brakes, pneumatic brakes etc.
FEATURES:
Modular Design, allows the controllers to be configured to exact application.
All customers' adjustments are on board to simplify set-up.
Microprocessor based control, can be used in any tension zone (Unwinder, Re-winder & intermediate).
To enter data using keypad allows the user to scroll through the selections and values, making set-up easy.
Indication and correction will be reliable, and efficient.
Close loop control by measuring web tension by two load cells, insures that malfunction or wrong web tensions are corrected.